MasterShield® Gutter Guard Installation in Seattle, Gig Harbor, Tacoma
Keep your gutters from clogging forever - guaranteed!
MasterShield gutter guards keep leaves and other debris out of your gutters.
Are you tired of cleaning your gutters or having to pay someone to clean your gutters? Installing gutter guards can save you time, money and hassle. Leafless in Seattle is your exclusive installer of MasterShield® Gutter Guards in Gig Harbor and all of Puget Sound Area. MasterShield's patented microfiltration technology keeps debris out of your rain gutters while letting water flow through your downspouts. MasterShield installs on new or existing gutters.
Ready to say goodbye to cleaning your gutters forever? Schedule a gutter guard consultation with us at no obligation. We'll provide you with a free estimate to add MasterShield gutter protection to your home. Call 1-844-429-5727 or click below to request a quote today.
---
Why you need MasterSheild
Clogged gutters can cause major problems when left untreated.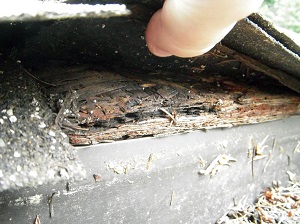 Rotting fascia board caused by clogged gutter.
Wood damage
When your gutter clogs and fills with water, this can cause fascia boards to rot. Overflowing water can also damage wood siding and window trim.
Foundation damage
When water has a chance to soak and settle next to and under your foundation walls, it has a chance to collect and flood the soil. If it's backfill (common unless your home was built on a completely flat lot) you can get uneven settling and massive damage.
Insect infestation
Rotting wood is never a good sign. When moisture gets into areas it's never meant to be, it becomes an ideal breeding ground for damaging insects like carpenter ants, termites, and more.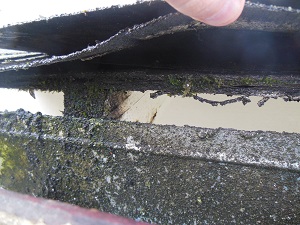 Water and moisture can cause mold growth.
Mold & mildew
Water will always seek the path of least resistance. Unfortunately, if your gutters aren't working properly, water and moisture will get into every nook and cranny. This creates an ideal environment for mold, mildew and decay.
Injury
Cleaning your gutters can be dangerous without the right equipment. One out of five falls causes a serious injury such as broken bones or a head injury. Gutter guards can keep out leaves and other debris and prevent your risk of a falling injury.
---
How MasterShield Gutter Protection Works
Watch this animation of how MasterShield works.
When we say no other gutter guards on the market come close to the quality and performance of MasterShield, we mean it. MasterShield is consistently ranked as a top gutter protection system by leading consumer advocates and experts.
MasterShield's inventor, Alex Higginbotham, first introduced micro mesh gutter protection in 2001. Since then, MasterShield has continued to evolve, providing you with better technology and performance than other gutter guard systems.
MasterShield is a completely enclosed gutter protection system that keeps out all debris, so your gutters remain maintenance-free for a lifetime.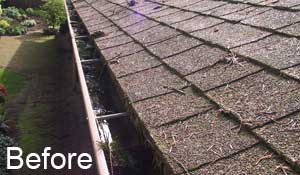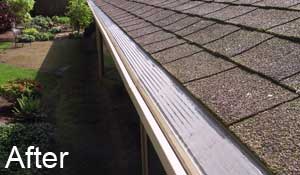 MasterShield Features & Benefits
Here's an overview of MasterShield's unique features and the benefits you can expect when you have this gutter protection system installed on your home.
Fits the exact pitch of your roof
Unlike other gutter guard products that sit flat, like a shelf, MasterShield is installed at the same angle as your roofline. This allows the filter to shed debris easily. We can also match almost any roof or trim color. These features create a look that homeowners love compared to the jutting, bulky, or gaping systems from other companies. This is also why many homeowners with metal roofs prefer MasterShield.
Patented HydroVortex™ technology stops water from overflowing
We have seen a major flaw in the design of other gutter guard systems during heavy rain. Either more debris ends up in the gutter, or there is too much water that overflows like a waterfall down to the ground. MasterShield's HydroVortex technology sucks water down into the filter, making it the only product that works at the same angle as your roof. Even though the holes in MasterShield gutter guards are only half the width of your hair, they are shaped such that each one forms a miniature whirlpool that siphons water into the gutter, no matter how much rain there is. This is another reason MasterShield works well even on metal roofs. For MasterShield, steeper is better!
Leaf Release™ non-stick surface won't trap debris
With other gutter guard systems, wet debris clings to the cover surface and follows water into the gutter, causing clogs. Regular gutter cleaning is needed to prevent debris buildup. Clogged gutters also give birds and bees a dry, attractive place to nest. MasterShield's patented Leaf Release surface allows debris to dry and blow away faster. This not only prevents clogs, but birds and bees also won't find a dry place to nest in your gutters.
Custom installation to fit your needs
Every home is unique and requires a different gutter solution. The good news is MasterShield gutter guards can be installed to fit the needs of your project:
We can install new gutters or use existing gutters (if they are in good condition)
We can install MasterShield as fascia mounted
We can mount MasterShield to the gutter supports
We can utilize the built-in flashing on the back fin of the system to help protect your roof (this is especially helpful in cases where a drip edge hasn't been installed)
No-clog warranty offers lifetime peace of mind
MasterShield guarantees that your gutters won't clog. They offer a transferable warranty on their gutter guard systems.
Preventing water damage is the reason why you have gutters in the first place, right? MasterShield is the only company that offers up to a $1,500 refund to cover your insurance deductible if the system causes water damage to your home.
Gutter Guard Products We Install
MasterShield manufactures gutter guards and gutter heaters for your exterior home improvement needs. MasterShield's innovative microfiltration technology saves homeowners time, effort and money from cleaning out, repairing and replacing unprotected gutters. MasterShield gutter guards are American-made and all raw materials are sourced from companies in the U.S.
MasterShield Gutter Guards
Mastershield's goal is to solve your specific gutter problems. That's why they offer several gutter guard design options for your home.
Gutter Guards for Pine Needles
Pine needles can be a major problem for gutters. They have a tendency to clog gutters very quickly. MasterShield gutter guards are an ideal solution if you're dealing with pine needles.
Most gutter guards have large openings that let debris where it gets trapped in the gutter guard. MasterShield's gutter guards are made with a non-stick, 316 surgical grade stainless steel microfilter that will not allow the tips of pesky pine needles or other debris in. In fact, nothing but water can get through a MasterShield protected gutter!
Heated Gutter Guards
If you're worried about icicles and ice dams ruining your gutters or roof, MasterShield's heated gutter guards might be the perfect solution.
With Ice Shield, you can heat an area as small as over an entrance way or an entire gutter run. The heat cable prevents ice in your gutters and ice dams while allowing water to flow through gutters that would normally freeze solid with ice.
Copper Gutter Guards
If you want the look of copper gutters, or you already have copper gutters on your home and want gutter guards to match, MasterShield is the leading choice. MasterShield's copper gutter guards are made with a stainless steel filter that floats in a special adhesive in a copper body. Copper ions will wash over the filter, killing algae, mold and mildew spores.
---
Get a free estimate on gutter guard installation in Puget Sound Area
Get answers to your questions about gutter guards and how the MasterShield gutter guard system is installed. During your in-home consultation, we will provide you with details on pricing and material options. Contact us today to request your free consultation and estimate, available in Kent, Federal Way, Auburn, Lakewood, Olympia, Puyallup, Bremerton and throughout Washington.
Looking for a price? Get a no cost, no obligation free estimate.